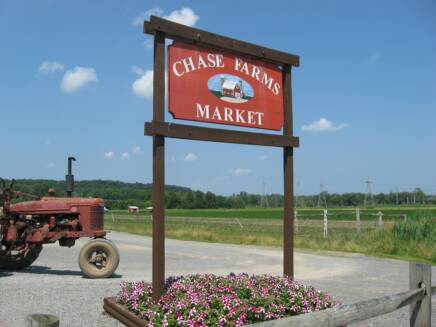 Chase Farms

459 Pannell Rd

Fairport, NY 14450

315 986 3691

TOMATOES, TOMATOES, TOMATOES!!!!!

SAUCE SEASON IS HERE

WE ARE LOADED WITH BEAUTIFUL TOMATOES RIGHT NOW!

WE HAVE A GREAT CROP OF RED FALL BERRIES READY TO PICK.  YOU MAY PICK ANY TIME WE ARE OPEN.  DON'T WAIT THE PICKING IS GREAT NOW!!

OUR HOURS ARE EVERY DAY FROM 9AM TO 7PM.

OUR PRODUCE MARKET IS OPEN DAILY WITH IN SEASON PRODUCE AVAILABLE TO PURCHASE. WE NOW HAVE VINE RIPENED MELONS,SWEET CORN AND OTHER IN SEASON PRODUCE.

OUR SHORTCAKE AND SUNDAE BAR IS OPEN WITH  PEACH AND RASPBERRY TOPPING.

THOSE OF YOU WHO ARE ON OUR MAILING LIST, UNLESS YOU RETURNED AN ADDRESSED POST CARD LAST YEAR, YOU WILL NOT RECEIVE A CARD THIS YEAR.  OUR COMPUTER HAD A MELT DOWN AND WE LOST OUR LIST OF CUSTOMERS.  PLEASE ASK TO SIGN UP AGAIN THIS YEAR.

SORRY WE DO NOT ACCEPT CREDIT CARDS.

call the berry hotline at 315-986-3691

Beehives located on the farm to ensure necessary pollination