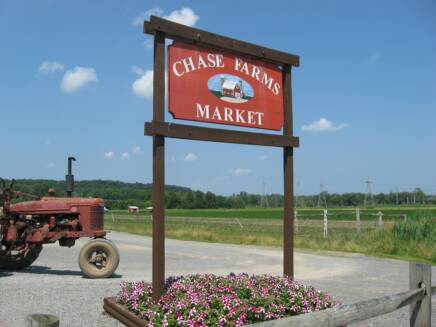 Chase Farms

459 Pannell Rd

Fairport, NY 14450

315 986 3691

WELCOME TO CHASE FARMS

Your local family farm market 

459 PANNELL RD

FAIRPORT, NEW YORK 14450

315-986-3691

IN ORDER TO CELEBRATE THE 4TH OF JULY, WE WILL CLOSE OUR MARKET AT 2PM TODAY.

For today 7/4  we are currently allowing pick your own strawberries, and raspberries.   We  still have end of the season strawberry picking available for u-pick and anticipate having strawberry picking thru Sun 7/5/2015.  After that we do need to start to renovate our patch.

Our farm market will open today with  in season produce available for purchase.  We are no longer picking strawberries for our stand.

It is $2.20/ lb to pick your own strawberries at Chase Farms. Pick your own raspberries are $3.75 per pint.

Normal hours of operation:  You may pick your own berries everyday from 8AM to NOON. Evening picking is Mon thru Fri from 6 to 8 PM. Sat and Sun our pick your own hours are from 8AM to Noon.

SORRY WE DO NOT ACCEPT CREDIT CARDS.

Chase Farms was featured on Tastemade!  Looking forward to our 2015 season already to try this dish!

Beehives located on the farm to ensure necessary pollination